If you are in to remote wilderness this is it. No airplanes, no people, stunning landscapes and abundant wildlife spotting. This part of Quebec is a wilderness area 350 km north of Baie Comeau. It is situated east of the Manicouagan crater, one of the largest impact craters on the planet and is clearly visible from space. Hence the name, as it looks like an eye… It is thought to have been caused by the impact of a 5 km diameter asteroid about 215.5 million years ago and was once thought to be associated with the end Carnian extinction event.
How to get there: Baie Comeau is where this road begins.  This is the last town until Fermont and Labrador City (585km from there). Stock up on food and gas, especially on gas since the price will rise a lot as you travel north (it's a remote area). No gas until the Manic 5 dam, 212km to the north.
If this is your first time and you are planning to take a lot of pictures and wander here and there to marvel at the scenery (which I strongly suggest you do), plan more than 8 hours for the trip. Don't forget that Labrador City is in the Maritime Provinces, therefore 1 hour later than in Quebec and Ontario.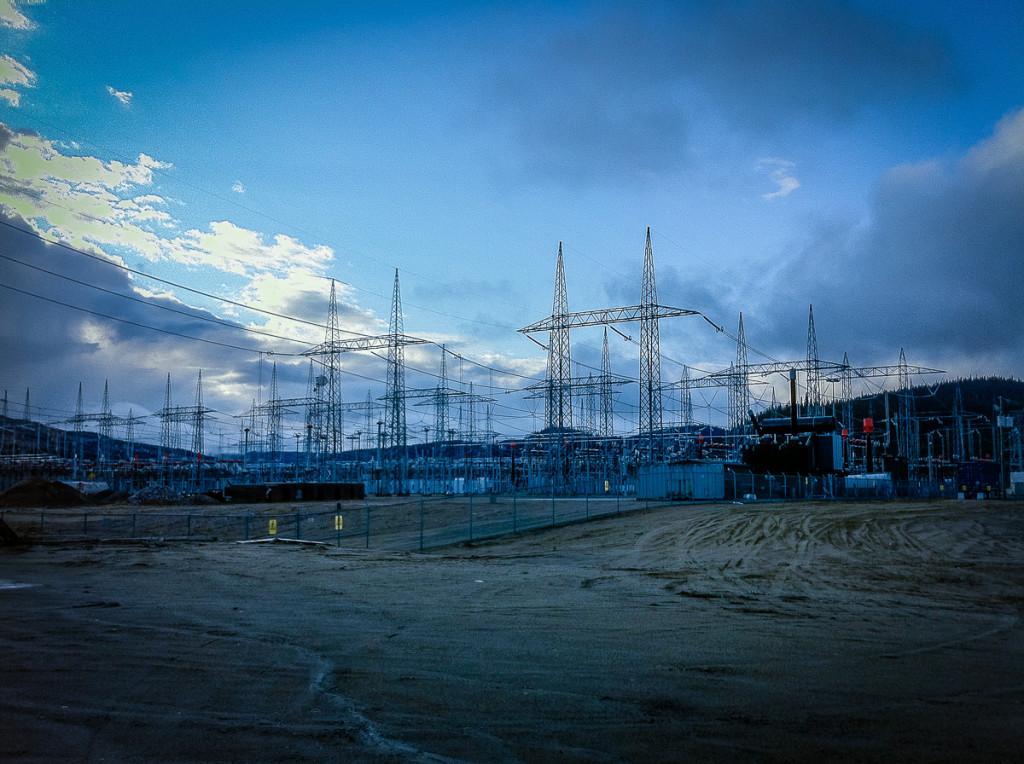 Traversing the Monts Groulx is not comparable to hiking on established trails as there is no trail at all. You might see directions on the first day, after that it's up to you and your navigation skills. Prepare for wet feet, no matter how good your boots are. The bottom is very soggy, that is why we mostly slept in hammocks.
The trail to traverse the Monts Groulx is about 45 km and will take you 4-6 days to finish. However if the weather turns bad, calculate 2 more days. Be sure to pack enough food and travel as light as possible. Water can be found anywhere, but do bring a waterfilter.
As there are risks involved in undertaking a trip like this mind the following:
Do not travel alone, if you do always bring a PLB (Personal Locator Beacon) or satellite phone.
Be in good physical condition, traversing this area is no joke.
Always leave a POP (Personal Outdoor Plan) with a person you trust and be conservative about the distances you can achieve.
We made the trip in November, temperatures varied from +20C to -10C. Be prepared for extreme weatherchanges.
Do not rely on electronic navigation equipment, prepare the trip with maps & compass. If you are not confident about your navigation skills, don't go!
You will need these topographic maps:
1 : 50000 22N/09 Rivière Hart-Jaune
1 : 50000 22N/08 Lac Lacoursière
Here is a pdf with info on the hike: MontsGroulxLeduc
On the highway 389 at km 335 you will find a road leading west to the prospector's house. The staff is very friendly and it is a good idea to notify them upfront what your plans will be. Leave a "personal outdoor plan" here and be sure to check in after the hike. We were very happy they served us a heart warming meal and a warm bed after our hike. It was November and we were exhausted…
Website: http://www.lesmontsgroulx.com
https://exploremore.eu/wp-content/uploads/canada-resized-1-of-10.jpg
896
1200
Dimitri
https://exploremore.eu/wp-content/uploads/explore-more-4.gif
Dimitri
2013-08-18 11:20:38
2017-04-23 09:41:16
L'Œil du Québec