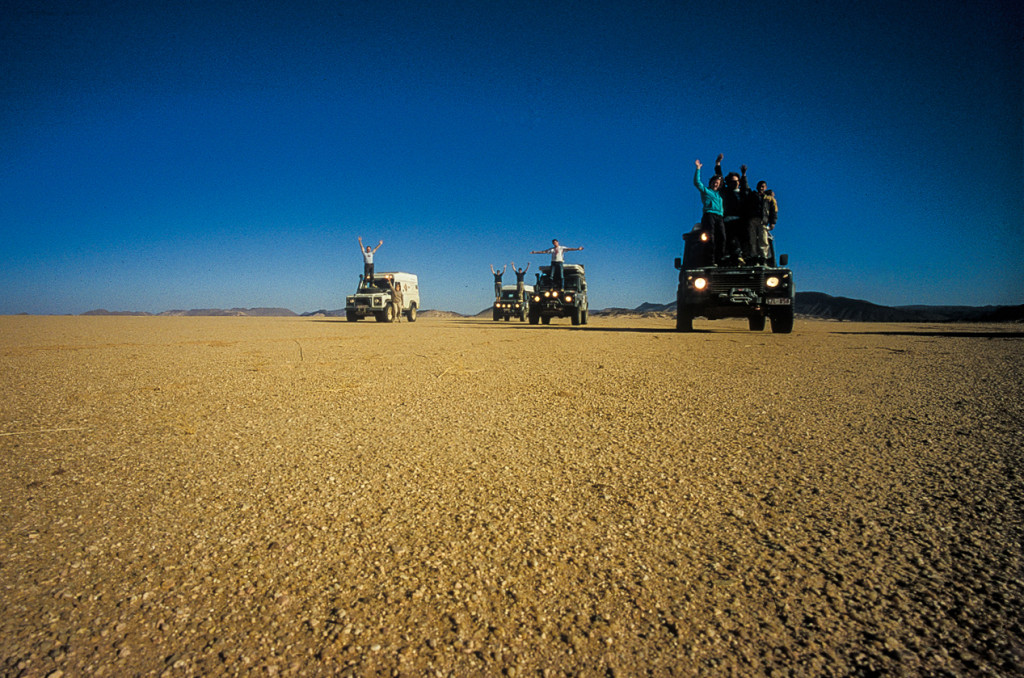 This time we wanted to explore the Hoggar mountain range in the south of Algeria.
Also known as Ahaggar, it's a highland region in central Sahara right along the Tropic of Cancer. Getting there was a beautiful adventure. Eight of us travelled to Tunis in four well prepared Land Rovers. After crossing Tunesia we drove in to Algeria where we met up with our guide to start our 1500 km journey to the Hoggar mountains. The biggest challenge was not the terrain or the magnificent dunes we encountered, but the fact that we had to cross more than 1000km of inhabited desert tracks without any chance of refueling. So we checked our Landies, threw 4 extra jerrycans on the roofrack and off we went. The vast desolate landscapes were exhillarating and  the beautiful encounters with the nomads that roam the area were unforgetable. The Hoggar massif is the land of the Tuaregs, a proud and beautiful tribe that still live much the same way today as they did centuries ago. And they make great tea too. In fact, prehostoric settlement is evident from extant rock paintings dating back to 6000 BC. Many of them still as clear as if they were painted last year. We crossed part of the Grand Erg Oriental, the Plateau du Tademaït and the amazing dunes of Erg Chech before we climbed to Assekrem in the Hoggar mountains. Highly recommended!
x+
Geoffrey
A view over the Hoggar mountains.
1000 more km of dunes to go, hope the 4 extra jerries are enough.
This one must have ran out of fuel…
Our guide tried to convince me that the Tuareg invented the wheel.
A young Tuareg girl enjoying the sun set.
Prehistoric rock paintings.
The beauty of the desert keeps amazing me.
Our route…
https://exploremore.eu/wp-content/uploads/assekrem-8-of-9.jpg
839
1267
Geoffrey
https://exploremore.eu/wp-content/uploads/explore-more-4.gif
Geoffrey
2014-04-28 10:42:06
2015-05-18 22:40:46
Assekrem or bust!