Last autumn we met up with our Croatian friends to go for a scouting trip in the north & central part of Croatia. Most people heard about the beauty of Croatia's mediteranian coast line, but when you venture inland, this country becomes even more amazing! The mountains are vast and desolate, and posess an unspoiled beauty that became hard to find in Europe. The landscape is extremely diverse and changes from one beautiful vista into another. This area is one of the last true wildernesses in middle & south Europe and fortunately big parts of it are conserved as National Parks now. To be able to get to the best spots you need to cover some distance and a 4×4 is the most practical way to do it. It gets you to all the cool hikes, camping spots and places to do some serious wildlife spotting.
You need a 4×4 to get to all the cool places.
So we loaded up our trucks and headed to Croatia – Karlovac – to be more precise. This is were Croatia Open Land has it's headquarters. Kreso and Rene are the charismatic founders of this super cool company. They have lived in these woods and mountains their whole lives. The have explored them, hunted in them and unfortunately even battled in them. It goes without saying that they have a serious passion for this land and they are on a mission to share their love and knowledge with like minded people from around the world. I am proud to say we became good friends and Explore More and Croatia Open Land decided to partner up, and are planning a week long adventure trip over the coolest tracks Europe has on offer. Not only do they know every corner of this vast area, they describe and find every sound and footprint of all the animals we encountered. Deer, boar and – oh yes – bears and wolves. So this week they were not hunting, rafting or rescueing people in the mountains. They were going to guide us trough their land. A trip we now commonly refer to as the best week ever!
No 5 star hotel can match the spots were we pitched our tents!
It is hard to explain how beautiful it is here in autumn, the leaves are gold and contrast with the blue skies. The mornings are misty and mysterious and at night the sun sets are dramatically beautiful. The landscape changes constantly from century old woods to lush hills and sculpted mountains. You encounter wild horses as you travel and when you are high enough and the skies are clear you can see the mediteranean coast and the hundreds of islands. We traveled south and discovered some of natures finest crown jewels, like the terraced water falls in Plitvice National Park that is now Unesco World Heritage and Europes largest bear and wolf population in Vebelit National Park.
Wild horses as we drove trough amazing sceneries.
So the nature is amazing, but the history and culture of this area can not be forgotten. When our trip started in Karlovac we saw a scarred city that tells the story of a brutal conflict.  When we headed inland we found amazing landmarks from the Tito era that really blow your mind and visited some crazy military constructions that are slowly decaying in the forests. Our guides tell us humbling stories about courage and pain when we sit together around the evening campfire. This too is Croatia, and we all hope that this never happens again, anywhere!
Tito built structures like this around the country to show off ex Yougoslavia's supremacy to the neighboring countries.They are now decaying in Croatia's forests.
So last autumn we had the most incredible week. We drove trough the true green heart of Europe. Hiked it's tracks, camped under the stars in an astounding environment and shared stories by the campfire. It made an ever lasting impression on us, and next autumn you can join us! Watch this space.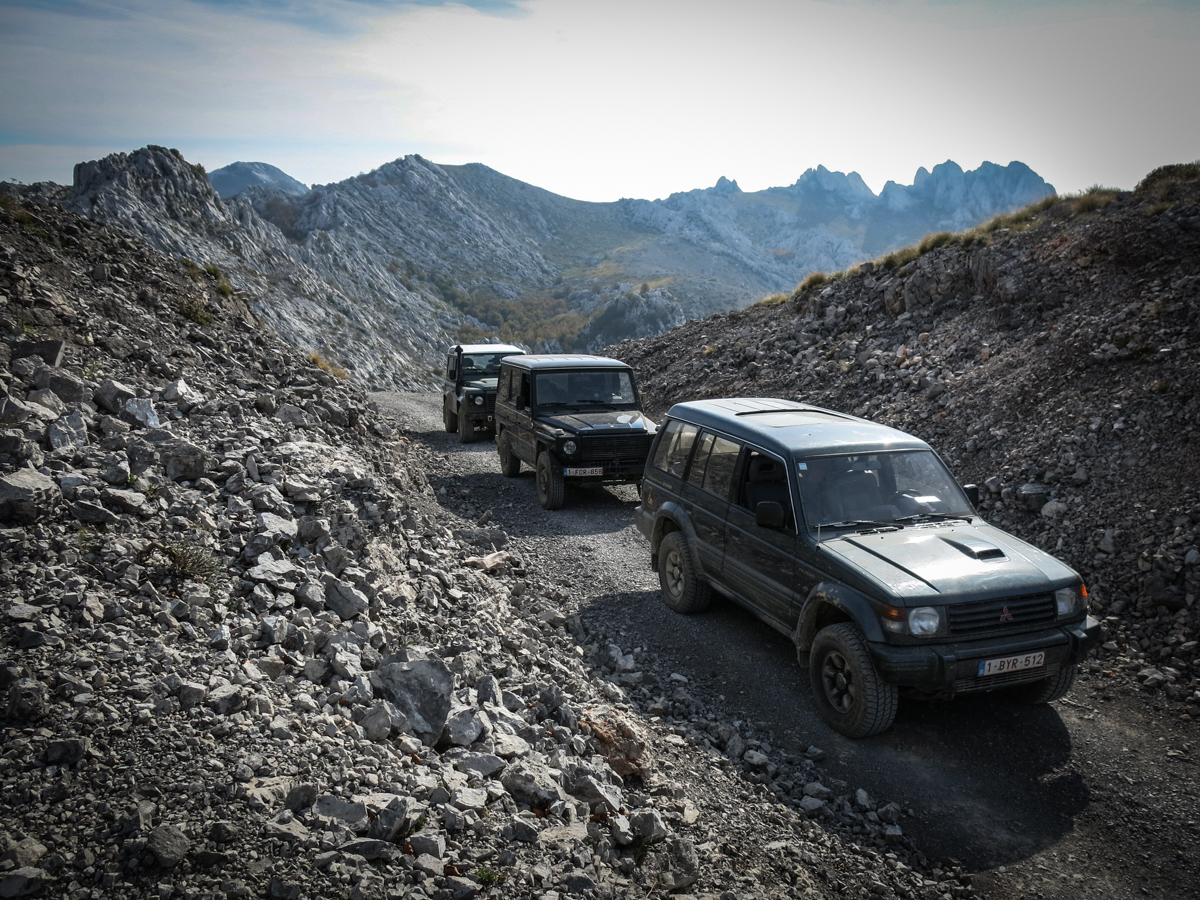 A mountain track high up above the tree line.
A beautiful misty morning view from our bivouac.
Fresh water, No problem…you can drink it.
Usually the tracks are fairly easy, but you have to come prepared…like with a G wagon.
Some of these mountain roads were built by the Romans.
The guide showing us where we are.
Beautiful autumn colors on this track.
Bear footprint in Vebelit National Park
Explore More crew trucks posing.
Autographed picture in a mountain lodge, check out Paul (Pavle) Balenovic and his wolf out here.
x+
Geoffrey
https://exploremore.eu/wp-content/uploads/green-heart-20-of-20.jpg
1200
1200
Geoffrey
https://exploremore.eu/wp-content/uploads/explore-more-4.gif
Geoffrey
2015-05-06 12:56:18
2017-07-24 12:32:37
Croatia, the green heart of Europe.